Hall Of Famers
2001 Inductee - 1989-90 UNLV Basketball Team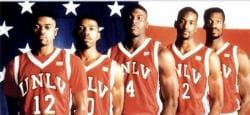 The season that it all came together for the Runnin' Rebels was 1989-90. The Rebels began the season ranked No. 1 in almost every poll and rolled through the competition. The team, led by Larry Johnson, Stacey Augmon, David Butler and Anderson Hunt, flexed its muscles in the Big West Tournament, running away with the title and the number one seed at the West Region.

In the 1990 NCAA Tournament, the Rebels toughest game came in the third round in Oakland, California when Ball State hung tough before falling 69-67. UNLV also ended Loyola Marymount's Cinderella Story Season with a 131-101 trashing in the regional final. The victory set up a semifinal match with Georgia Tech at McNichols Sports Arena in Denver. UNLV rallied to a 90-81 triumph and a date in the championship against the Duke Blue Devils.

The 1990 NCAA Championship was all UNLV as an 18-0 run midway through the second half sent Duke reeling as the Rebels ran up the most lopsided victory in championship history, 103-73.

Anderson Hunt was named MVP of the Final Four for his performance as the Rebels finished the season 35-5. The squad, led by Coach Jerry Tarkanian, was inducted into the UNLV Athletic Hall of Fame in October of 2000.
The 1989-90 UNLV Basketball Team File
Claim to Fame: The first time a college team on the west coast won a national championship since 1975 when the UCLA Bruins were champions.