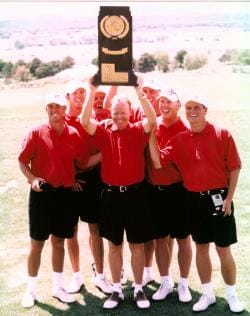 In one of college golf's most compelling stories, the 1997-1998 UNLV Men's Golf Team put together a season for the record books. The Rebels, led by Coach Dwaine Knight, won just about everything in sight in that magical season that culminated with UNLV winning the national championship at the University of New Mexico's Championship Golf Course (par 72, 7,248 yards), fittingly at Knight's alma mater and in his hometown.
The top-ranked Rebels withstood a final-round rally from Clemson and won their first-ever NCAA men's golf title by three shots. It marked only the second team national championship for UNLV in any sport as the men's basketball team won in 1990.
The Rebels, who won their record-breaking seventh tournament of the season, shot a final-round one-over-par 289 and finished the tournament at 34-under-par 1,118, setting the record for the lowest total in NCAA Championships history. The old mark was 23-under par, which was set by Arizona in 1992 and repeated by Stanford in 1994.
UNLV also broke the NCAA Championships record for lowest score after the second-round. The Rebels were at 23-under par after the 36-hole cut, eclipsing the old mark set by Stanford in 1994 at 11-under.
Knight, who's best finish before that year at the NCAA Championships was second in 1996, then failed to make the cut in 1997, led his team to the title in only his 10th try with the Rebels.
Rebels who teed it up for the record-setting victory were Chris Berry (tied for second individually), Bill Lunde (tied for 15th), Charley Hoffman (tied for 20th), Jeremy Anderson (tied for 29th) and Scott Lander (tied for 37th). The scoring total was the lowest in the history of the NCAA Championships. Other members of that team included Daron Dorsey, Scott Wingfield and Christian Thornley. Berry, a junior at the time, led the Rebels and finished in a tie for second place one shot back at 16-under.
Hoffman was the first member of that national championship team to win on the PGA Tour, winning the 2007 Bob Hope Chrysler Classic in a playoff.