Hall Of Famers
1999 Inductee - The Cashman Family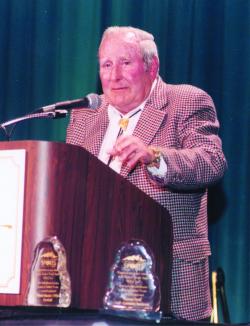 When it comes to foresight, there could never be a greater story than James "Big Jim" Cashman.

From the first transportation system to the Helldorado Parade, to the Professional Golfers Association Las Vegas Invitational, the Cashman name is to Southern Nevada what the wheel is to the automobile.

The Cashman family was instrumental in the creation of the Professional Golfers Association Las Vegas Invitational. Jim Cashman, Jr. established The Founders, which brought the tournament to Las Vegas. He served as the chairman for the LVI for two years and as chairman of the Las Vegas Senior Classic for two years. He was followed by his son, James Cashman, III. who served as chairman of the LVI for two more years before his untimely death in February of 1995. In honor of his contribution, a new golf headquarters was erected at the Tournament Players Club in Summerlin. It was named the James Cashman III Golf House and is a magnificent building which headquarters all golf activities.

In addition, the Cashman family has been with the UNLV golf program from the very start. The family has remained a big part of the golf program, with Jim Jr. playing, Jim III and Tim all being part of the Rebel golf program.

From automobile dealerships to schools to baseball fields and street signs, the name Cashman is everywhere and is synonymous with volunteerism and pioneerism throughout the state.

The Cashman name is literally everywhere in Southern Nevada. Big Jim Cashman, the ultimate visionary, is probably the most prolific name in Nevada.
The The Cashman Family File
Claim to Fame: The Cashman Family have been pioneers in the Las Vegas sporting world and business community.