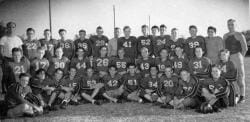 The story of the 1944 Las Vegas High football team began in earnest in 1936 when Harvey Stanford took over the program. Prior to his stint at Las Vegas High, Stanford served as the first president of the city's YMCA and as a co-founder of the Boy Scouts of America. He was known as a no-nonsense disciplinarian, something that he preached to his players.

Prior to the start of the 1944 season, Stanford presented his Code of Ethics, rules by which he lived, to the 34 players on the team. By signing the decree, each player had sworn to be unselfish and loyal to teammates and live a clean, hard-working lifestyle, which included an emphasis on class work, implementation of curfews and a ban on smoking, drinking and candy.

The 1944 Wildcats were led by a dynamic group of players that included Bill "Wildcat" Morris, Rheen Call, Tom Bell and team captain John Mendoza. While not a physically imposing team, Stanford stressed endurance as a method for overcoming a lack of size and taught each player to hit far beyond his natural strength. This strategy was embodied by Morris, who played linebacker and offensive guard at 166 pounds and earned team MVP honors.

While most conversations in Las Vegas at that time centered on the latest developments in World War II, the Wildcats gave the city a much needed diversion on Friday evenings. After dispatching Kingman, Ariz. in its first game, the Wildcats traveled out-of-state to face San Bernardino, Calif. at the Orange Show Bowl. Before a crowd of 5,000 fans, the undersized Wildcats became the only team to beat the eventual Southern California champion that year, by a score of 14-0.

In the following weeks, the Wildcats dominated the competition, disposing of Needles (19-0 and 25-0), Basic (37-0), Lincoln County (48-0) and then Boulder City (21-0) for the Southern Zone championship. In the state championship game, Las Vegas High downed Sparks 19-0. During the eight-game schedule, the Wildcats defense frustrated its opponents by not only keeping them scoreless, but never allowed any team to string together back-to-back first downs.

While the legacy of the 1944 team is often perceived to be their perfect season on the field, this distinguished group, pushed to excel in all facets of life by Stanford, went on to find success in high-profile professions. Within several years of graduation, the roster had produced 10 attorneys, as well as a navy pilot, marine colonel, engineer, psychiatrist, dentist, realtor, casino executive, certified public accountant and sports writer.