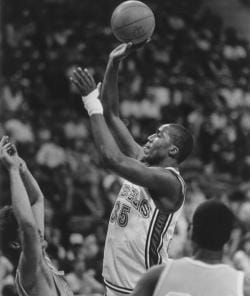 Primarily a football and track athlete growing up in Pittsburgh, Armon Gilliam eventually attended Independence Junior College in Kansas. He was a reserve on the basketball team when coach Jerry Tarkanian's staff discovered him while recruiting another player.
The rest is history.
Nicknamed 'The Hammer' for his prowess inside, Gilliam played at UNLV from 1984-87 and was a key member of UNLV's second NCAA Final Four team in 1987. That team finished the season with a 37-2 overall record and was 18-0 in Big West Conference play.
During the magical 1986-87 season, Gilliam averaged 23.2 points and 9.3 rebounds per game as a senior. He was a second-team All-American selection in 1987, and is seventh on the all-time UNLV career list in scoring with 1,855 career points. The 1987 Big West Conference Player of the Year, Gilliam was also named first team all-conference in 1987 and second team in 1986.
A prolific scorer, Gilliam holds the UNLV record for most points in a season with 903 in 1986-87 and most field goals made in a season with 359 that same year.
Gilliam was selected in the 1987 NBA Draft with the second overall pick by the Phoenix Suns. He played in the league for 13 seasons with six teams. For his career he averaged 13.7 points per game, 6.9 rebounds per game and shot 48.9 percent from the field. He appeared in 929 games during his NBA career.
Gilliam had his No. 35 UNLV men's basketball jersey retired during a halftime ceremony at the Thomas & Mack Center on Nov. 6, 2007, becoming the eighth player to have his jersey retired by the program.
He was inducted into the UNLV Athletics Hall of Fame in 1998.
Gilliam passed away in 2011 at the age of 47.