Hall Of Famers
1999 Inductee - Bill Ireland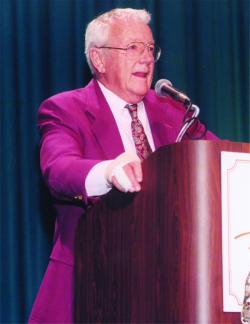 UNLV has turned out many great football players over the years. From Randall Cunningham and Ickey Woods to Keenan McCardell, UNLV has seen its share of success on the football field. They all have Bill Ireland to thank for it.

In 1967, Ireland became the first football coach in the history of Nevada Southern University. The school would later change its name to UNLV. Ireland took on the daunting task of a start-up football program and compiled an amazing 8-1 record – still a record for a first-year program playing a schedule against four-year universities.

After seven years on the sidelines, Ireland gave up the whistle and became athletic director and took on another daunting task. He oversaw UNLV's emergence to the Division I level and was present for the school's first trip to the Final Four.

He passed away on July 31, 2007.
The Ireland File
Born: April 29, 1927
Claim to Fame: First football coach in UNLV history; as athletic director took UNLV to Division I.