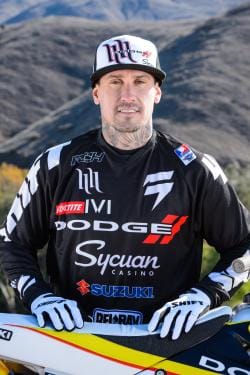 A native of Las Vegas and graduate of Green Valley High School, Carey Hart is one of the most recognized names in all of freestyle motocross. His father bought him his first motocross bike when he was only four years old in hopes of spending some quality time with his son. However, what had originally started as a father and son pastime quickly turned into Hart's passion. By the time he entered his first local race as an amateur, he was hooked and by high school graduation, he was a professional motocross rider, racing the AMA Supercross circuit.

Looking for a new challenge, Hart started riding with a group of guys who were interested in a more creative and expressive form of motocross. In 1998, the freestyle motocross movement was born with Hart leading the way. From the sport's inception, he has been one of the most innovative riders in the sport. He is the inventor of the Hart Attack, and at the 2000 Gravity Games Hart etched his name in the record books as the first rider ever to complete a back flip on a 250cc motorcycle. The back flip catapulted Hart, and Freestyle Motocross as a whole, to an entirely new level. The stunt got the world's attention; it was even featured on Ripley's Believe It or Not!

Hart has traveled the globe on a quest to increase exposure for the sport of freestyle motocross. He has been featured in nationwide ad campaigns for Ford and Mountain Dew as well as in such print publications such as Paper Magazine, Teen People, EXPN The Magazine, Rolling Stone, and has graced the covers of numerous motocross magazines. Hart has also appeared on "The Late Show with David Letterman" and "The Today Show" and has starred in ESPN/Touchstone Pictures' IMAX film, "Ultimate X" and has cameo appearances in Columbia Pictures' "XXX" and Touchstone Pictures' "Charlie's Angels II" and in the VH1 reality show "The Surreal Life."

In 2004 Hart's passion for tattoos turned into a business venture. Hart & Huntington Tattoo Company opened its doors in the prestigious Palms Casino in Las Vegas. This move lead to another TV opportunity for Carey when the A&E network decided to follow him and the workings of the shop in their own reality show: INKED. Since then, three more Hart and Huntington Tattoo shops have opened: Honolulu, Niagara Falls, and Orlando at Universal CityWalk. In 2009 the H&H shop relocated to The Hard Rock Hotel.

In addition to these business ventures, he still dedicates significant time to one of his biggest passions, his Supercross team. Hart funds one of the most popular and lifestyle-driven privateer teams to hit Supercross. He took his team to a whole new level for the 2012 Supercross season by doubling it's size of talented riders at a time when most teams are down sizing.

Hart earned the first annual R.A.D. Lifetime achievement award for his impact on freestyle motocross. In October 2012, Hart announced that he would partner with Ricky Carmichael to form RCH Racing with factory support from Suzuki and Yoshimura's research and development.