Hall Of Famers
2013 Inductee - Chris Powell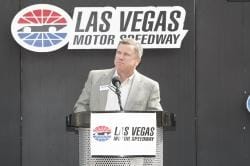 Chris Powell is president and general manager of Las Vegas Motor Speedway, having been appointed to the position in December, 1998. Powell came to the speedway after spending 10 years with R.J. Reynolds Sports Marketing Enterprises.

Since Powell's arrival at LVMS, the speedway has generated more than $2.5 billion for the Las Vegas economy. Powell has overseen phenomenal growth of the speedway including the construction of a new drag strip, short track, two new superspeedway grandstands and the Neon Garage.

Each year, LVMS hosts a NASCAR Weekend that is one of the most highly anticipated and highly attended motorsports weekends in America. LVMS also hosts two NHRA drag racing national events, a NASCAR Truck weekend and many other events that are regional in nature, in addition to track rentals for driving experiences and other manufacturer-related events. LVMS also hosts the Electric Daisy Carnival, which is the largest electronic music festival in North America and attracts approximately 300,000 music fans.

Powell began his RJR career as a public relations representative for the Vantage and Nabisco golf programs. In 1991, he moved to the NHRA Winston (now Mello Yello) Drag Racing program and in 1994 became RJR's manager of media relations for the NASCAR Winston Cup (now Sprint Cup) Series.

Chris is a graduate of the University of North Carolina at Chapel Hill, where he majored in journalism. Chris began his professional career as a sports writer in North Carolina.

A native of Ahoskie, N.C., Chris and his wife Missy have five children.
The Powell File
Born: July 03, 1959
Claim to Fame: Since Powell's arrival at LVMS, the speedway has generated more than $2.5 billion for the Las Vegas economy.
Family: Missy (Wife); 5 children (Russ, Tip, Jack, Christian and Lauritz)