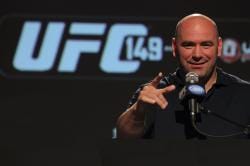 Dana White, President of Zuffa, LLC, d/b/a Ultimate Fighting Championship® and co-owner of its assets, oversees a company of more than 200 employees across three continents.

With a keen sense of competition and strong business acumen, White has achieved unrivaled success in the combat sports industry. Since Zuffa, LLC acquired the UFC organization in January 2001, White has built the UFC into the fastest-growing sports organization in history.

The UFC's popularity exploded when the first season of the hit reality series The Ultimate Fighter® - which White co-created - delivered record ratings on cable television. Now, 17 seasons later, The Ultimate Fighter franchise is a staple of TV and popular culture all over the world. Combatants such as Kenny Florian, Rashad Evans, Forrest Griffin and others have gone on to become champions and main event headliners as well as ESPN anchors, action movie heroes and best-selling authors. In 2012, The Ultimate Fighter Live moved to FX.

Thanks to White's vision, from humble beginnings as a live events company producing five cards a year, the UFC organization now presents more than 30 live events per year across the world, produces over a dozen TV shows and accounts for thousands of hours of broadcast and cable programming in 28 different languages in 145 countries. The UFC has shattered box office records across the US, Canada, the UK, Europe, the Middle East, Australia, Japan and Brazil.

Ancillary businesses now include the UFC® Gym, branded apparel, trading cards and other media including best-selling DVDs, video games, books and an internationally distributed magazine.

In 2008, both Business Week and SportsBusiness Journal named White one of the most influential people in sports. In 2009, the United States Armed Forces Foundation presented White with the Patriot Award for his contribution to injured military servicemen and women. That same year, White was named "Nevada's Sportsman of the Year" by the Caring Place, a nonprofit organization dedicated to relieving financial concerns of cancer patients. Last, White was named one of the most influential people of 2010 by both Time and Esquire and was invited to speak at the famed Oxford Union at Oxford University, England.

In 2011, the UFC burst into the mainstream with a landmark seven-year broadcast agreement with FOX Sports Media Group. The agreement includes four live events broadcast on the FOX network annually, with additional fight cards and thousands of hours of programming broadcast on FX and FUEL TV.

Alongside UFC Chairman and CEO Lorenzo Fertitta, White directs the continued worldwide expansion of the business from the company's headquarters in Las Vegas.

A New England native, White spent his formative years in Las Vegas where he currently resides.