Hall Of Famers
2006 Inductee - Dr. Gerald Higgins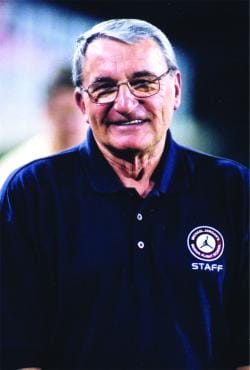 A native of Wisconsin, Higgins attended high school in Madison. After high school, he attended the University of Notre Dame and then entered the U.S. Army. Higgins returned to Notre Dame after his tour of service. He attended the Scritch School of Medicine at Loyola University. After residency in orthopedic surgery at Edward Hines Jr. Veteran's Hospital and Healtheast St. Joseph's Hospital, the doctor began his medical practice in Illinois.

In the summer of 1969, the Higgins relocated the family to Las Vegas. He joined an orthopedic surgery practice with Dr. Armand J. Scully. Since then, Higgins has founded and been a partner in orthopedic practices including Desert Orthopedic Clinic and University Orthopedic.

While he has performed free physical exams for high school students around the valley for years, Higgins has also served as the UNLV's main orthopedic surgeon for more than 30 years. He has spent countless hours providing medical care to student-athletes both at home and during road competition.

Aside from contributing his time to UNLV, Higgins and his wife, Lucia, sponsor the Dr. Gerald Higgins Annual Student Athletic Trainer Scholarship. He was inducted to the UNLV Athletic Hall of Fame in 2002 and has received the UNLV Distinguished University Service Award.
Dr. Higgins passed away on August 10, 2014 at the age of 79.
The Higgins File
Born: September 02, 1934
Claim to Fame: In 2002, Higgins was awarded the University Distinguished Service Award
Family: Wife (Lucia); ten children: Maureen, Mary Beth, Michael, Brigid, Kevin, Sean, Brian, Shannon, Terry and Rory