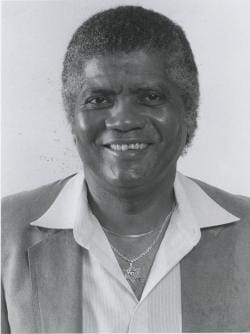 A native of New Orleans, Durden attended public school and excelled in both the classroom and in sports. In high school he earned letters in both baseball and basketball and was offered a full ride scholarship to Howard University upon graduation. At the same time, however, he was pursued by both the Harlem Globetrotters and the St. Louis Cardinals. After graduation, Durden decided to attend Southern University in Baton Rouge, LA. There he played both baseball and basketball, still being sought out by the professional leagues.

Durden left Southern University to play first base for the then Brooklyn Dodgers, playing in the major and minor league systems for nine years. He also won the Triple Crown for the Diablo Rojas in the Mexico League. His playing career ended after a serious knee injury.

When he arrived in Las Vegas, his first job in organized sports was as a supervisor at Dula Recreation Center. During that time, he learned officiating and began to work local high school games in basketball, football and baseball. Durden worked his way up the ranks of the Southern Nevada Officiating Association to become the first black official in the Western Athletic Conference, as a back judge.

In 1978, Gov. Mike O'Callaghan appointed him to the Nevada State Athletic Commission, again breaking the color barrier for the position. For the next two years, Durden was instrumental in bringing network boxing to the city of Las Vegas and notoriety to the State of Nevada.

Durden was a pioneer on the Nevada commission as well. He stood up to the World Boxing Association over the selection of officials to work the scheduled WBA light heavyweight title fight between champion Victor Galindez and Mike Rossman at Caesars Palace. The WBA wanted to use all outside officials, while the defiant Durden wanted at least some Nevada officials. The dispute led to the cancellation of the fight, but it set the precedent for the policy the Nevada commission has used for years in dealing with the sanctioning organizations: inclusion of a Nevada referee and at least one Nevada judge.

Durden left the commission to become a vice president of Don King Productions in 1980. He was a master at matchmaking in putting fighters in position to fight for titles.

After a brief stint working for legendary promoter-manager Emanuel Steward's boxing organization in Detroit, Durden returned home in 1991. He operated local shows at Arizona Charlie's, Showboat and finally The Orleans, where he worked for Momentum Enterprises/Guilty Boxing making "Friday Nite Fights" a staple for local entertainment.

Durden passed away in 2000 at the age of 63.