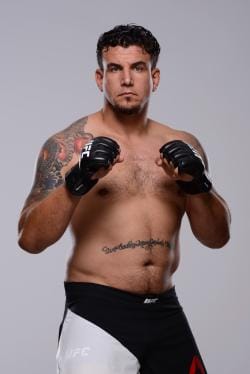 A two-time UFC heavyweight champion who is widely considered to be one of the best big men of all-time in the sport of mixed martial arts, Frank Mir's accomplishments in the Octagon are ever present for the world to see, but his career has not been based on pure athleticism or technique. Instead, Mir's rise to the top is a testament to the power of determination against all odds, making him a shining example to the Las Vegas community he has been a part of his entire life.
That's not to say Mir, 36, isn't a great athlete. At Bonanza High School, he won a State championship in wrestling, while also competing on the school's track and field and football teams. All the while, he learned martial arts from his father, Frank Sr., and eventually migrated to Brazilian Jiu-Jitsu and MMA.
In Jiu-Jitsu, Mir would earn a black belt, and by the time he was just 22 years old, he was competing in the UFC. Good-looking, articulate and a world-class fighter, Mir was the perfect fit for stardom, and when he won the UFC heavyweight title in June of 2004 by defeating Tim Sylvia, the sky was seemingly the limit.
Yet just three months later, disaster struck when Mir was blindsided by a car while riding his motorcycle. The accident threatened not just his career, but his life.
A year and a half after the accident, Mir defied the odds by returning to the Octagon, but the road back was going to be longer than expected. Finally, 2007 saw a new chapter in his career begin, as he began a winning streak that saw him defeat Brock Lesnar and regain the UFC heavyweight title when he defeated Antonio Rodrigo Nogueira for the interim belt in December of 2008.
Comeback complete, Mir could have walked away, but he has remained one of the top fighters in the division. And on March 20, 2016, the man with the most heavyweight wins in UFC history will look to add another victory to his list when he faces Mark Hunt in Brisbane, Australia.
It's been a career to be proud of, but Mir has opted to give back as much, if not more, than he's received, serving as an assistant wrestling coach at Bishop Gorman High School, while supporting local charities such as Boys Town Las Vegas and St. Jude's Ranch for Children, and regularly speaking to at-risk youth.
Mir and his wife Jennifer reside in Las Vegas with their four children, Kage, Ronin, Isabella and Marcus.