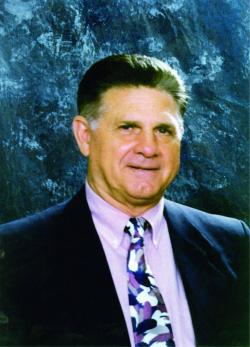 A native of Florence, CO, Frank Nails established himself as one of the premier athletes to hail from this region. As a quarterback for Florence High School, he was an All-Conference selection from the Pikes Peak League (Colorado Springs, CO) in 1955 and 1956 and was named AA Colorado High School Quarterback of the Year following the 1956 season. He matriculated to Western State College and earned three varsity letters, playing both linebacker and running back.

After graduating from college in 1960, Nails turned his attention to his teaching/coaching career in Pueblo, CO. He taught and coached in both the public and parochial schools for four years. During his final season in Colorado, Nails led Pueblo Catholic High School to an undefeated city championship.

Nails and his wife, June, moved to Las Vegas in 1964. He started his teaching/coaching career at Roy Martin Junior High School. The next year, he moved to Rancho High School where he taught health and served as an assistant football and baseball coach as well as the head wrestling coach.

In 1967, Nails became the head football coach at Bishop Gorman High School. During this five year span, he also assisted in wrestling, basketball and was the head track coach. Nails also served as the athletic director for three years. His 1967 football team was the Southern Zone runner up and in 1970 he led the Gaels to the Nevada AAA State Football Championship, the first large school football championship in its history. For this, Nails was named the 1970 Nevada State High School Football Coach of the year by the Las Vegas Review-Journal and Reno Gazette-Journal.

Nails moved to Western High School in 1971 where he taught social studies and served as an assistant varsity football coach under Horrace Smith. He also served as athletic director for one year. He was the offensive coordinator in 1976 when the team won the Nevada AAA State Football Championship.

In 1977, Nails moved to Las Vegas High School as an administrator, where, over the next 20 years, he supervised academics, athletics and activities. He retired in 1997 after dedicating 37 years of his life to education as a coach, teacher and school administrator.

During his coaching career, Nails coached four eventual college All-Americans, including Al Faccinto, David Humm and Mike Kobielsky at Bishop Gorman and Frank Hawkins at Western.

Nails has been honored and received numerous special awards for his meritorious service. In 1997, the football stadium at Las Vegas High School was designated as Frank Nails Field to honor his dedication to education and athletics. He is also a member of several Hall of Fames, including the Nevada Interscholastic Activities Association Hall of Fame, the AAAA Football Coaches Association Hall of Fame (Clark County) and the Western State College of Colorado Football Hall of Fame.