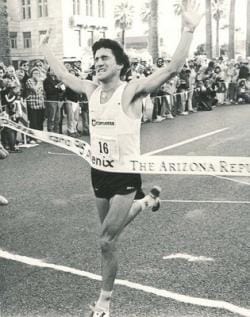 Born in Rochester, New York, Plasso made his way to Las Vegas in 1974. He attended Bishop Gorman High School, earning letters in football, soccer, cross country and track and field.

Upon graduation, Plasso matriculated to UNLV on a full scholarship for track and field and cross country. After his four years at UNLV, he holds all records for distance running. A scholar athlete, Plasso earned a degree in 1982 in business management.

Starting in 1982, Plasso became one of the elite runners in the world. That same year, he became the USA National 10K and 25K Champion. The next year, he won the Phoenix International Marathon, recording the third fastest debut ever for an American marathoner. Plasso overcame one of the top international fields ever assembled in 1982 in Phoenix, including Belgium's Carl Listmont, who won silver and bronze medals, respectively, at the 1976 and 1980 Olympic Games.

Plasso followed that up in 1984 by again winning the Phoenix International Marathon. Two years later, he won the first of two Las Vegas International Marathons, blazing to a record time of 2:12:36. The record stood for nearly 20 years, but his time is still the second fastest time in event history. In 1989, Plasso won the Las Vegas event again, recording a time of 2:13:13, which remains the third fastest time in the event's history.

Internationally, Plasso represented the USA in Seoul, Korea in the World Marathon Championships and served as team captain.

During his remarkable racing career, Plasso won more than 250 races, including the Las Vegas Turkey Trot six times and every major race ever held in Las Vegas.

Plasso has also dedicated himself to giving back to the community. He has been involved with the Las Vegas Candle Lighters Association, a group that assists children with cancer, for many years during his residency in Las Vegas. For his work, he was honored in Utah in December of 2008 as Philanthroper of the Year by the Rocky Mountain Candle Lighters Association. In addition, Plasso has promoted and operated more than 20 fund raising event to raise money for local charities.

Currently, Plasso serves as the President/CEO of Supplement Rx, a national vitamin manufacturer and Elite Nutrition, a national chain of retail supplement stores. The first Elite Nutrition store opened in Henderson, Nev. in 1988 and is still in existence today.

Plasso and his family currently reside in Park City, Utah.