Hall Of Famers
2010 Inductee - Freddie Banks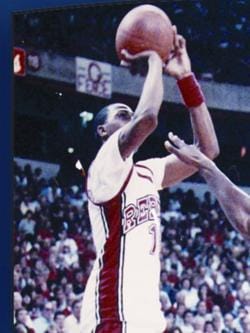 Freddie Banks, a native of Las Vegas and graduate of Valley High School, is quite simply one of the smoothest shooters ever to wear a UNLV Runnin' Rebels uniform.

As a senior, Banks, affectionately known as "Fearless Freddie" for his clutch shooting ability, averaged 19.5 points per game and led the Runnin' Rebels to a 1987 Final Four appearance. That season came to end with a Final Four loss to the eventual champion Indiana Hoosiers. However, Banks knocked down an NCAA Tournament record 10 three-pointers in that game.

The 1987 team finished with an overall record of 37-2. The Rebels only dropped one regular season game that year, an 89-88 loss to Oklahoma, and became the first UNLV team to finish the regular season ranked first in the country.

Banks holds the record for most three-pointers made in a season (152) and is second on the list for career threes (229). He also ranks in the top-five for UNLV career scorers (2,007 points).

Banks was selected in the second round (24th overall) of the 1987 NBA Draft by the Detroit Pistons.

Currently a resident of Las Vegas, Banks has turned his attention to coaching. He spent six years as the assistant coach at Valley High School and later moved over to Canyon Springs High School. In 2010, with Banks serving as an assistant to head coach Daryl Branham, the Pioneers went 26-4 and advanced to the 4A State Championship game. He currently is the head coach at Canyon Springs.
The Banks File
Born: March 06, 1965
Claim to Fame: Banks led the Runnin' Rebels to the 1987 Final Four.
Family: Tilmon and Martha (parents)\r\nTilmon, Jr. (deceased), Willie, Karen, Greg, Brenda (siblings)\r\nNieda (wife), 7 children (Sidney, Wesley, Lashawnda, Freddie, Jr., Brandon, Darrington, Courtney), 5 grandchildren