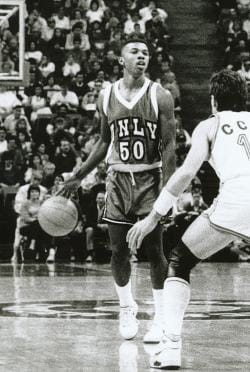 Born in Las Vegas, Anthony began his college career at the University of Portland but transferred to UNLV after his freshman season. As a junior in 1989-90 he teamed with Larry Johnson and Stacey Augmon to lead Jerry Tarkanian's Runnin' Rebels to their first NCAA Championship. One season later, he averaged 8.9 assists per game for the Rebels. The playmaker was a two-time honorable mention All-American and three-time all-conference selection.

In 1991, the New York Knicks made Anthony the 12th overall pick in the NBA Draft. After four years in New York, Anthony was selected by the Vancouver Grizzlies from the Knicks in the NBA Expansion Draft. He played two years in Vancouver and went on to play for four additional NBA teams – Seattle SuperSonics, Portland Trail Blazers, Milwaukee Bucks and Chicago Bulls.

During his professional career, Anthony averaged 7.3 points per game. The 6-2 point guard appeared in the 1994 NBA Finals as a member of the New York Knicks. He established career-highs and led the Grizzlies in scoring (14.0) and assists (6.9) during the 1995-96 season. His 130 consecutive games with an appearance remains the Blazers' longest streak.

Anthony's off-court accomplishments have been as equally impressive as his basketball career. During college, Anthony was a national vice chairman for the Young Republicans (1989-91). He was appointed by President George Bush to serve as an aide at the 1990 World Economic Summit in Houston. Anthony attended the 1992 Summer Olympics in Barcelona as an official delegate representing President Bush. The following year, he established the Gregory C. Anthony Foundation in 1993 to fund academic scholarships at 18 Las Vegas high schools and to assist in the fight against multiple sclerosis.

Anthony joined ESPN in November of 2002 as a studio analyst for the network's NBA coverage. In 2008, he made his debut as a college basketball announcer for CBS Sports.
In addition to his work at CBS, Anthony has also contributed to Yahoo! Sports as a college basketball analyst.