Hall Of Famers
2002 Inductee - Greg Maddux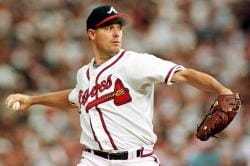 Few Major League baseball players can be assured of their induction to the Baseball Hall of Fame in Cooperstown, N.Y. before they retire. That makes Greg Maddux part of an elite group.

Maddux, a 1984 graduate of Valley High School, won four consecutive Cy Young awards from 1992-1995. Only Roger Clemens has more Cy Youngs than Maddux. Maddux has had successful stints with both Chicago Cubs and Atlanta Braves. He returned to the Cubs in 2004 to start his 19th Major League season.

During the 2004 season, Maddux recorded his 300th career victory making him just the 20th pitcher to ever reach that milestone. At the conclusion of the 2004 season, he had recorded 305 wins, 2,916 career strikeouts and his 2.95 lifetime earned run average ranks among the best in the history of the game.

In 2009, the Cubs retired uniform No. 31 In honor of Maddux and Hall of Famer Fergie Jenkins.

In 2010, Maddux was hired by the Chicago Cubs as an assistant to General Manager Jim Hendry. In his return to Chicago, his focus was on developing pitchers' styles and techniques throughout the organization, including minor league affiliates. For the 2012 season Maddux left his position with the Cubs and joined the Texas Rangers organization, where his brother Mike is a pitching coach.

He was announced as the pitching coach for the USA Team in the 2013 World Baseball Classic. Maddux capped his career in 2014 when he was voted into the Baseball Hall of Fame in his first year of eligibility.
The Maddux File
Born: April 13, 1966
Claim to Fame: 19-year Major League veteran; four-time Cy Young Award winner; ranks among the top all-time players in wins, strikeouts and earned run average.