Hall Of Famers
2000 Inductee - Jim Colbert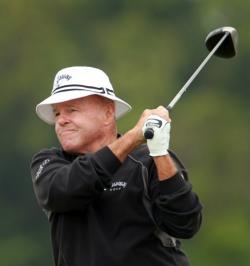 In his two decades on the PGA TOUR, Jim Colbert left his mark as a gifted competitor. Colbert's eight PGA TOUR victories include two wins in 1983, one of them a five-shot victory at the Texas Open. He was also unbeaten in two playoffs on the regular tour, defeating Raymond Floyd and Fuzzy Zoeller.

Colbert has made the most of the career "mulligan" that the Senior PGA TOUR represents. He was operating a successful golf course management business when his 50th birthday rolled around. Sensing that his game had held up well, he took his aggressive instincts and trademark bucket hat onto the Senior PGA TOUR in 1991. In 12 seasons, he has won 28 events.

His biggest win to date, though, was over prostate cancer.
The Colbert File
Born: March 09, 1941
Claim to Fame: During his career, he won 8 PGA TOUR victories.