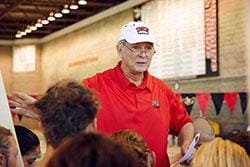 A native of Seattle, Wash., Jim Reitz moved to Las Vegas in 1976 and began his long and successful coaching career. He began coaching the Sandpiper Swim team before taking over the reigns of the UNLV swimming program four years later at the start of the 1980-81 season.
Reitz, who at 35 seasons became the longest-tenured coach in Rebel athletics history, retired from coaching in 2015.
He steadily built the Rebels into one of the most successful squads on campus. The final tally after his 35 years included: 14 conference championships (highlighted by a run of 10 titles in the last 11 years by the men's program), 29 combined conference Most Valuable Swimmers, 16 combined conference Coach of the Year honors, and 17 combined all-time top-30 team finishes at the NCAA Championships.
The Rebels enjoyed their greatest success during the final 11 years with Reitz at the helm. In addition to the men's team's conference championship streak, the Rebel women also claimed the 2005 Mountain West title. In 2015, the Rebels recorded a third-straight top-30 finish at the NCAA Men's Championships, and it was the Rebels' fifth top-30 finish in the past six years. That includes a pair of 19th-place finishes in 2011 and 2014, the highest in school history.
While Reitz not only coached a total of 42 Rebels to All-American status between the men's and women's programs, UNLV was also well-represented internationally over his time guiding the program, both at the Olympic Games as well as other international competitions. Reitz also stressed academic success for the Rebels, and his teams saw a near perfect graduation rate while consistently were awarded with CSCAA (College Swimming Coaches Association of America) Team Academic honors.
After retirement, Reitz continued to stay busy in Las Vegas. He coaches a masters swim group four times a week. In addition, he received his real estate license and is selling properties for Caldwell Banker Premiere Realty.