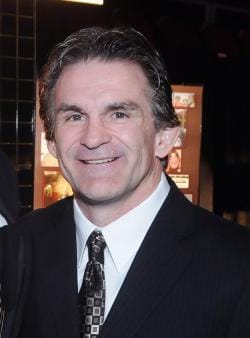 Jimmy May has devoted much of his life to wrestling and athletics, first as an athlete and later as a coach and administrator.

Born in Roseburg, Ore., May arrived in Las Vegas in 1966. He attended Basic High School and was a stand out on the wrestling team, serving as team captain and earning two AAA Nevada State Championships and two AAA Zone Championships. May was named to the Amateur Wrestling News High School All-American team.

Following graduation in 1972, May attended Arizona Western College and continued his outstanding wrestling career. He was a two-year captain of the wrestling team and captured two NJCAA conference and regional championships. He matriculated to Central Missouri State University (CMSU) and continued his dominant career. May was named the captain of the wrestling team two times and named the MVP of his squad. He won two MIAA championships and was nominated to the CMSU Wrestling Hall of Fame.

In addition to his impressive athletic feats, May also excelled in the classroom, earning two NJCAA academic distinctions at Arizona Western and the academic distinction of cum laude at CMSU. He continued his education at UNLV, earning a Masters of Education degree in 1990.

May carried his passion for athletics and academics into his career in coaching and administration. Following his graduation from CMSU in 1977, May returned to Las Vegas and, for the next 22 years, served as the head wrestling coach at El Dorado High School. His list of accomplishments is long and distinguished. During his tenure he won ten 4A Nevada State Championships and 18 Regional Championships. He coached 63 4A individual state champions and 19 High School All-Americans, while recording a dual record of 318-20-2. On four occasions, May was named Regional Coach of the Year by the National High School Coaches Association.

For his accomplishments, he has been honored locally and nationally. The Las Vegas Review-Journal in 2000 named May the 6th most successful coach in Nevada history. In addition, May's program was recognized as the 4th Most Successful High School Wrestling Program of that Era by USA Wrestling Magazine. In 2008, May was inducted into the National Wrestling Hall of Fame in Stillwater, Okla.

In addition to wrestling, May served as the head football coach at El Dorado High School from 1993-96. During that time, he earned two Sunrise Conference Championships and served as the head coach of the Sunrise All-Star Football Team.

From 2000-08, May served as a coaching advisor within the Clark County School District. Currently, May continues his work in wrestling as the head coach at Baker University.