Hall Of Famers
2000 Inductee - Johnny Tocco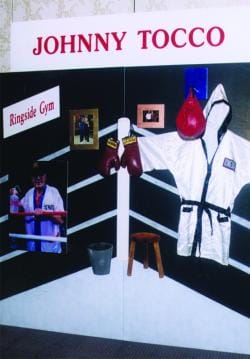 Tocco came to Las Vegas in 1953 for the Nino Valdez vs. Archie Moore fight and never left.

In the early 1950's, he opened the famed Ringside Gym, a cramped and dingy structure at the corner of East Charleston Boulevard and Main Street. It seemed a million miles from the bright lights of Las Vegas, but to those who know boxing, Johnny Tocco's Ringside Gym was a cathedral celebrating the sweet science. The Ringside Gym has been the training ground for numerous world champions including heavy-weight champions; Sonny Liston, Larry Holmes, Mike Tyson and Michael Dokes.

Tocco was known for more than just his famous gym and the fighters he trained. Tocco was known for this love of boxing, his kind soul amidst the brutal sport of boxing. For every fighter he helped to achieve greatness, there were many more kids that he helped off the street.

He passed away in 1997.
The Tocco File
Born: 1910
Claim to Fame: Tocco was one of Las Vegas' all-time greatest boxing trainers.