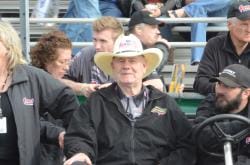 Born in St. George, Utah and raised in Las Vegas, Ken Black has been an instrumental figure in drag racing for more than 40 years. As an 18-year high school student from Las Vegas' Western High School, Black realized that his passion was in racing. At that young age, he entered his Chevy 2 Nova SS in a race at the now defunct Stardust Raceway and won that first race, receiving a trophy and jacket as a first-place prize. That was in 1964.

Following his win at Stardust Raceway, Black began racing whenever possible. He even won the track championship at the Stardust Raceway in 1968, which earned him an invite to the 1969 Winternationals in Pomona.

While many of the local tracks started to close in Las Vegas, Ken found a home at the newly opened Las Vegas Speedrome. This facility, which hosted drag races through 1999, sat on the spot now occupied by the grandstands of the Bullring at Las Vegas Motor Speedway.

During his successful run as one of the top local drag racers, Ken realized he needed to earn a living on his own. He borrowed $5,000 from his father to start a construction business. His office was in the bedroom of his house and the shop was in the backyard. This company would become Vegas General Construction in 1975. The company specialized in residential housing, and as Vegas began to boom, so did Ken's construction business.

But as Black and his wife, Judy, were enjoying success, their personal life suffered a tremendous blow. In 1993, their daughter Kristin died. The couple took it upon themselves to raise their then two-year old granddaughter, who is the eldest of the Blacks' three grandchildren. Two years later, Black became a bishop in the Mormon Church, a responsibility he has taken very seriously.

In the mid 1990s, Black partnered with George Marnell to form Marnell-Black Racing with George as the driver. In 2000, Marnell and Black hired a crew chief named Greg Anderson, who also was interested in driving. In 2001 at Bristol, Tenn., Anderson – the driver – gave Marnell-Black Racing its first professional win. Anderson would win once more in 2001 as he took top honors at the prestigious U.S. Nationals in Indianapolis. George Marnell picked up his first win later that year in Memphis.

By 2002, Black had formed a new team with his son Kenny and called it KB Racing. They hired Anderson as the driver and it has been the NHRA's most successful race team, regardless of class, since. Ken and Kenny expanded to a two-car team by adding Jason Line to its driver lineup in 2004. In 2006, the father and son added a Top Fuel dragster to the team with Hillary Will as the driver.

Today, Anderson and Line continue to excel on the race track and Black serves as the team owner.

Despite all of his success, Black always has fond memories of Las Vegas. Rarely a day goes by that he doesn't think about that trophy and jacket he won in 1964 at the Stardust Raceway.