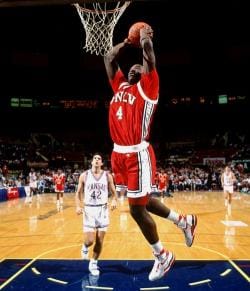 A native of Tyler, Texas, Larry Johnson is perhaps the most famous Runnin' Rebel of all. The power forward took home the prestigious John Wooden Award as the nation's top player as a senior as well as being a unanimous first team All-American. A first-teamer a year earlier as well, he was also a two-time conference regular-season and tournament MVP. Still ranking 13th in career scoring and eighth in rebounding at the school despite only playing two seasons, he holds records in single-season and career field goal percentage as well.

As a junior in 1989-90 he teamed with Greg Anthony and Stacey Augmon to lead Jerry Tarkanian's Runnin' Rebels to their first NCAA Championship.

In 1991, the Charlotte Hornets made Johnson the top overall pick in the NBA Draft, making him the first UNLV player ever chosen No. 1 overall in a professional league draft. Johnson went on to a 10-year NBA career, including winning the league's rookie of the year award for the Charlotte Hornets in 1991-92. A two-time NBA all-star, Johnson scored more than 11,000 points and grabbed 5,000 rebounds in his career and served as a tri-captain on the gold-medal-winning United States national team (known as Dream Team II) at the 1994 World Championships.

Johnson finished his career with the New York Knicks after the 2000-01 season. During his professional career, the 6-7 forward averaged 16.2 points and 7.5 rebounds per game.

In 2012, he was hired by the Knicks as a basketball and business operations representative. He will focus on player development and be involved in business initiatives.