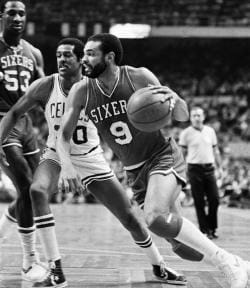 By the time Lionel Hollins reached the hardwood floors at Rancho High School, his talents as a basketball player were never in doubt.

Upon graduation from Rancho in 1971, and with no plans for college, Hollins' high school coaches talked him into playing for Dixie Junior College in St. George, Utah. After Hollins led Dixie to the national junior college tournament finals in his second season, several colleges recruited him across the country. He chose Arizona State University, where he was an All-American in 1975.

After college, Hollins was drafted sixth overall by Portland, where he became the Trailblazers' starting guard and was named to the NBA All-Rookie Team. In 1977, he helped the Blazers to the NBA Championship and a year later was selected to the All-Star Game. After four years with the Trailblazers, Hollins was traded to Philadelphia, where he played two full seasons. He finished his playing career with stops in San Diego, Detroit and Houston. In Hollins' 10 years as a player, he earned three trips to the NBA Finals.

In 1998, he traded in his high-tops and shorts for a playbook and clipboard, when he became the assistant coach for the Phoenix Suns. During his time with the Suns, Hollins helped guide Phoenix to seven consecutive 50-plus winning seasons and seven consecutive playoff appearances. After seven successful years with the Suns, Hollins moved on to become the assistant coach for the Vancouver Grizzlies and in January of 2009, was named the Grizzlies' head coach.

Hollins served as the head coach of the Grizzlies through the 2012-13 season. During that final season, he lead his team to 56 wins and a spot in the Western Conference Finals. He served as the head coach of the Brooklyn Nets until January 2016.

Hollins was honored as the Las Vegas Review Journal's top 100 athletes of the Century, at No. 19, and also made the top 100, at No. 69, of the Arizona Republic's Athletes of the Century. In April 2007, the Portland Trail Blazers retired his #14 jersey.