Hall Of Famers
2005 Inductee - Lou Pisani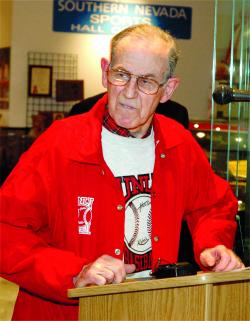 Coach Lou has been a pillar in the Las Vegas baseball community for more than 50 years. Pisani came to Las Vegas in 1953 as a teacher and coach at Las Vegas High School. He spent 30 years at Las Vegas High, leading the Wildcats to three state championships. Pisani was also named Southern Nevada Coach of the Year on four occasions. He went on to coach at Bishop Gorman from 1983-87.

Pisani has served as a baseball scout for the Kansas City Royals (1971-73), Philadelphia Phillies (1974-81) and San Francisco Giants (1984-88). He also served as coach and scout for the Phoenix Firebirds of the Pacific Coast League (AAA) from 1985-88.

Currently, Pisani serves as a volunteer assistant for both the UNLV baseball team and the Las Vegas 51's.
The Pisani File
Born: April 15, 1927
Claim to Fame: Coached High School Baseball in Southern Nevada for more than 34 years.
Family: Wife (Rosemary); four children: Veronica, Lynda Lou, Juliana and Sam; 14 Grandchildren; 4 Great Grandchildren