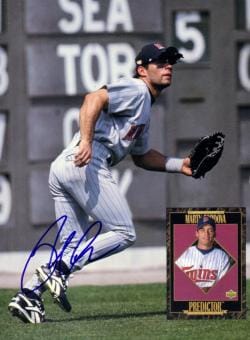 Born in Las Vegas, Nev., Marty Cordova was an outstanding baseball player from a very young age. As a graduate of Bishop Gorman High School, he became an outstanding MLB prospect.
The San Diego Padres selected him in the 8th round of the 1987 draft. However, Cordova chose to play college baseball and pursue a career in sports medicine. He then attended UNLV for a short time and went on to Orange Coast Community College with plans of then playing baseball for USC.
In 1989, the Minnesota Twins selected Cordova in the 10th round. He worked his way up the Twins minor league system and in 1994 was invited to major league spring training. However, a broken arm delayed his start of the season and he spent that year in Salt Lake City with the Twins' Triple-A affiliate.
Cordova broke into the big leagues with the Twins in 1995, hitting .277 with 24 homers and 85 RBIs. Following that stellar season, Cordova was named the American League Rookie of the Year. The next season was his best as a professional when he had career highs in batting average (.309), RBI (111), runs (97) and doubles (46).
He went on to play for the Toronto Blue Jays in 2000, the Cleveland Indians in 2001 and the Baltimore Orioles in 2002-03. During his nine-season Major League career, he was a .274 hitter, belting 122 home runs and 540 RBI in 952 games.
After his baseball career, Cordova returned to Las Vegas and became actively involved in his real estate development ventures. In January 2009, Marty along with two other Las Vegas residents, formed Bent Pixels LLC. Cordova was eventually named Partner/COO. Bent Pixels is the world's first software platform designed for next-generation media companies. From back-office network administration to digital rights management, Bent Pixels provides a multi-platform solution for online video business. Bent Pixels operates worldwide with teams in Los Angeles, Las Vegas, Krakow and Boston.
Bent Pixels works with major brands: Disney/Maker Studios, Bell Media, Awesomeness TV, Mattel, FUNimation and 20,000+ individual YouTubers, including Kevin Hart and Joe Rogan. This activation generates more than 500 million monthly views.