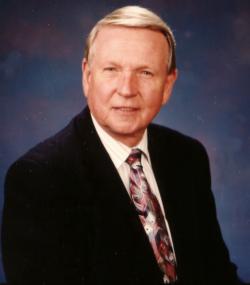 Mel Larson was born Oct. 1, 1929 in Plymouth, Mich. After high school, he joined the Air Force and was, for a time, stationed in Phoenix. The desert life agreed with him, and he decided to call Arizona home following his military discharge.

Larson's love for cars started with a 1937 Pontiac and progressed to the Cadillac convertible he drove to Arizona. In 1952, he began a career of racing cars and promoting races. Larson competed in virtually every form of racing from NASCAR to off-road racing. But he was more than a driver. He also understood public relations, promotions and business and made racing his life for the next 20 years.

In 1956, Larson was an active competitor on the NASCAR circuit and also served as the series' public relations director for a short while. In the 1960s, he began promoting races in the Phoenix area, and he even sold closed-circuit broadcasts of the Indianapolis 500.

Racing brought Larson to Las Vegas in the late 1960s as a competitor in the Mint 400. After racing in that event in 1968 and 1969, he began promoting the popular race. During this time, Larson and Mint Hotel General Manager William Bennett became friends.

In 1974, Bennett bought the Circus Circus Hotel-Casino and persuaded Larson to relocate to Las Vegas as the hotel's public relations director. That began a love affair between Mel and Las Vegas that still lasts today. By late 1975, Larson had become a vice president at Circus Circus and in 1986 he was promoted to corporate vice president.

After retirement from Circus Circus in 1992, Larson became even busier. He helped in the conceptualization of Las Vegas Motor Speedway – a facility that is owned by Speedway Motorsports and headed by Mel's friend of 50 years, Bruton Smith.

Larson developed the heliport for Mercy Air, a helicopter service that transports injured and sick patients. He and his wife, Marilyn, have five dogs and three cats and have spent countless hours helping the cause of animals. Larson has served on the Lied Animal Shelter board for many years.