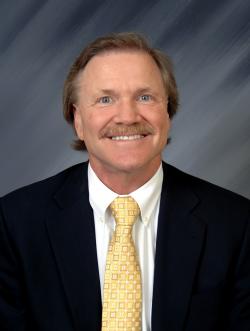 Pat Christenson has been instrumental in the development of special events in Las Vegas for more than 30 years.

Before coming to Las Vegas, he graduated from the University of Wisconsin where he won a NCAA wrestling title in 1976.

He began his career in venue management in 1980 as event coordinator for the UNLV Athletic Department, while also serving as the Assistant Wrestling coach. In 1983, he was promoted to assistant director of the newly built 18,500-seat Thomas & Mack Center.

At the same time, UNLV took over management of the 30,000-seat Las Vegas Silver Bowl, now known as Sam Boyd Stadium. Christenson was charged with developing programming to fill both venues and creating an operation to support that programming.

From 1983 - 1992, the Thomas & Mack Center and Sam Boyd Stadium were arguably the two most successful venues in the country. Christenson booked every major event, averaging 175 events per year in both venues. In 1991, he was promoted to director of both venues.

In 1995, Christenson developed the UNLV Sports Marketing Department. This department brought together all aspects of the venue and athletic inventory, including season and scholarships sales, promotions, sponsorship and merchandising.

In 1999, Christenson successfully lobbied for and oversaw a $40 million renovation of both the Thomas & Mack Center and Sam Boyd Stadium. At the same time, he designed and sold the naming rights to Cox Pavilion, which funded its construction.

In 2001, Christenson accepted a position as president of Las Vegas Events. Its mission is to secure events for Southern Nevada. During his tenure, Las Vegas Events has increased the number of events it has supported from 21 in 2001 to an average of 39 over the past five years. The non-gaming economic impact of these events has increased from $108.9 million in 2001 to an average of more than $285 million over the last five years.

As both the director of the Thomas & Mack Center and president of Las Vegas Events, Christenson has played a prominent role in the growth of the National Finals Rodeo since it first arrived in 1985. To date, the Wrangler NFR has sold out 300 consecutive performances.

In 2007, Christenson served as the Chairman of the Arena Task Force consulting on the design, operation and marketing of a new arena being proposed in Las Vegas.