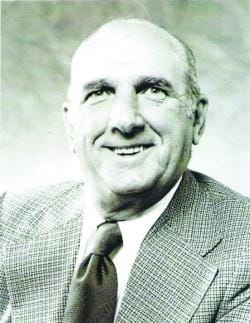 Ralph Meder was born in 1913 in Cincinnati, Ohio, the home of baseball's first professional team, the Cincinnati Redlegs. Baseball was Meder's lifelong passion, during his early years, through high school, and his early years as a husband and dad to three children. He played the game through high school and had an after-school job catching for the Cincinnati Reds pitchers and other players for just $1 an hour.

He took his love of baseball far beyond his Cincinnati roots, playing for the Reds in the Appalachian League during the 1930's and later in semi-pro ball in the Tri-State area. Life at the Meder house was all about baseball, too. He trained his young son, Dick, to pitch, a skill that was rewarded when he was named "Pitching Ace" and led Purcell High School to several local and statewide championships and eventually a bonus contract with the Cincinnati Reds in 1954.

For health reasons, Meder and his wife Helen relocated in 1958 to what was then the small town of Las Vegas. He and his new Nevada friend (and fellow baseball enthusiast) "Big Jim" Cashman started one of the city's first semi-pro teams, the Las Vegas Cowboys in 1959. The Cowboys (later called the Las Vegas Colts) brought in teams from throughout the West. They played all their games at the original Cashman field.

Meder took his love of baseball to the young people of Las Vegas. He was known for the Sunday morning workouts he conducted for the kids. They went beyond baseball, teaching what he called "skills for life" that he taught his own children. His philosophy was that if the boys were learning baseball from him, they wouldn't be getting into trouble.

Cy Young Award winner Greg Maddux and his brother Mike, Marty Barret, Mike Morgan, Danny Opperman and Tom Hausam – all future big leaguers – were Meder's protégées. From him, they learned baseball and sportsmanship, honor, integrity and the value of hard work.

Major League teams were impressed with his success with young boys and regularly sent scouts to his Sunday workouts. Many MLB teams requested that he scout for them, but Meder declined saying that he was there for the kids. (No boy—with or without a major-league prospect—was turned away.) He believed that it would be in the boys' best interest for him to avoid affiliation with any MLB team. Many major league hopefuls from throughout the United States came to Nevada to participate in his "workouts" and MLB scouts would come to Ralph's Las Vegas "scout camps" to "look over" his teams.

When he died in 1983, Ralph's dedication to young people and baseball was remembered by the MLB and the many boys and their families who learned his life lessons. People who knew him called him "Mr. Baseball." In 1989, a local baseball field was named Ralph J. Meder Field to honor his 25-plus years of dedication to Las Vegas youths.

At his funeral, Father George Wolfe said it best: "I have never seen such an assemblage of young people at a funeral. It is a fine tribute to Ralph and shows how many lives he touched" –on the field and off.