Hall Of Famers
2000 Inductee - Randall Cunningham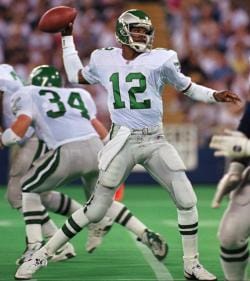 From leading the offense at UNLV to his career in the NFL, Randall Cunningham brought to the game a rocket arm and incredible athleticism that befuddled defenses and redefined the position of quarterback.

A starter by his sophomore year at UNLV, Cunningham would become one of only three quarterbacks in NCAA history to throw for over 2,500 yards. In addition to his ability to throw the ball and his wizardry as a runner, he was also the punter for the Rebels. He was named first-team All- American his sophomore year and second-team All-American as a senior.

The Philadelphia Eagles drafted Cunningham in 1985. While in Philadelphia, Cunningham's ability to beat a defense with his arm and his feet made him a regular on highlight replays and earned him numerous awards. A two-time Pro Bowler, he became the first quarterback in history to led his team in rushing for three straight years.

After taking a year off in 1996, Cunningham took his talents to Minnesota to become quarterback for the Vikings. In 1998, Cunningham stepped up to prove there was still magic in that arm and those feet by having one of his best years ever. During this incredible season, he was ranked second in the NFC and NFL with 34 touchdowns passes, just behind Steve Young's 36.

After retirement, Cunningham returned to UNLV to finish his college degree in film. Cunningham has also been active in the Gospel music business since his retirement from the NFL by opening a recording studio and producing a Christian rap group called Humility. In addition, he founded Remnant Ministries in Las Vegas in 2004.
The Cunningham File
Born: March 27, 1963
Claim to Fame: During the 1998-99 NFL season named the Miller Lite Player of the Year, Most Valuable Player Award, selected to play in the Pro Bowl Player and received his third Bert Bell Award while taking the Vikings to the NFC Championship game.