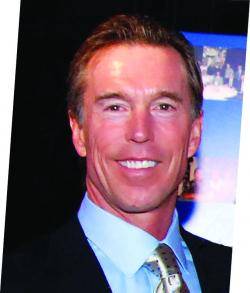 Rich Abajian was born to compete, whether playing sports, coaching or in business.

A native of Walla Walla, Washington, Abajian was an excellent athlete in high school, earning 6 letters in baseball, wrestling and football. Upon graduation, he attended Walla Walla Community College on a football scholarship. In 1973, Abajian enrolled at the University of Nevada – Reno, becoming a two-year starter for the Wolfpack.

In 1975, Abajian also displayed his prowess on the handball court as he became the west coast collegiate handball champion and a quarterfinalist in the collegiate handball championships. Later that year, Abajian turned his attention to coaching. For two years, he served as the assistant football coach at Walla Walla Community College. In 1977, Abajian became a graduate assistant at UNLV, a position he held for two years. He went on to become a highly effective recruiter and defensive backs coach for the Rebels, where he studied under legendary coach Tony Knap from 1978-81.

Abajian had many opportunities to remain in coaching before choosing a career in the automobile business. From those original days, he has "coached" some of the most successful automobile dealerships in the country. Abajian first broke into the car business at Findlay Oldsmobile in 1983. Later, he launched two Saturn Retailers and currently serves as the general manager of Findlay Toyota and COO of the entire Findlay Automotive Group.

Wherever Abajian has been, he as left his mark. Saturn of West Sahara led the country in sales for four straight years from 1992-1995. Since he opened Findlay Toyota for Cliff Findlay in 1998 they have been consistently one of the top performers in national sales for 10 straight years.

Now a partner in Toyota, Abajian was the inspiration behind creating the Southern Nevada Sports Hall of Fame in 1997, where David Humm was honored. Going into the car business, Abajian was unconventional in the way he managed, hiring competitive individuals, ex-athletes, and taking the product to the community. Anyone who has attended a UNLV, Las Vegas 51's, Las Vegas Thunder, or Gladiators game, Home Show, or an event at the Orleans Arena has become familiar with the legendary Saturn events trailer or the Findlay Toyota/Saturn RV being displayed right along with vehicles and marketing representatives interacting with the public.

Twenty years and 5,000 community events later, the Findlay Automotive Group has supported everything where people gather. Countless charities, teams, causes, and individuals have benefited from this generous, Christian man. Abajian has also served on the Board of Directors for the After School All-Stars since 2006.

His trademark line for excellence in coaching and the business world is "Great Leaders Inspect, What you Expect." Hands on are his approach to life.

Abajian passed away February 9, 2016 at the age of 62.