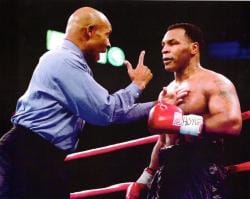 Richard Steele has been in boxing for 44 years, first as a fighter and then arguably, boxing's most famous and finest referee. He grew up in Los Angeles, Calif., and began his boxing career while he was in the United States Marine Corps. In 1963 and 1964 he was "All Marine Corps Champion" and competed in the 1964 Olympic Trials. One of his teammates on the Marine Corps team was Ken Norton, who went on to become World Heavy Weight Champion. Steele had an amateur record of 21-4 and a professional record of 16-4 with 12 KO's.

Steele began refereeing fights in the 1970's, and he went on to referee in 172 world title fights around the globe, more than any current or past referee. In 1983, he refereed his first major fight, when Aaron Pryor knocked out Alexis Arguello in ten rounds in the rematch. He also refereed the epic battles of Marvin Hagler and Thomas Hearns, Julio Cesar Chavez vs. Meldrick Taylor I, and the fight in which Sugar Ray Leonard made his comeback after a three year lay-off in 1987 to beat Hagler. In addition, Steele refereed five title bouts that featured former World Heavy Weight Champion, Mike Tyson. After retiring from his illustrious career, Steele was inducted in the World Boxing Hall of Fame in 2000.

Following his memorable career as a referee, Steele made a natural transition and burst onto the scene as a promoter and matchmaker. During this time, he formed Richard Steele Promotions, Inc. In addition to working with established fighters, Richard Steele Promotions, Inc., is committed to developing a stable of young, exciting fighters. Steele has been promoting shows in California, New Mexico and Tijuana, Mexico and in 2003, he began promoting shows in Las Vegas.

Outside the ring, Steele has also made a name for himself as a community conscious person, when he opened up the Richard Steele Gym in North Las Vegas and served as manager of sports and fitness programs. This modern facility features 7,000 square feet of space and provides fitness, boxing and computer skills to at-risk youth in the Las Vegas area. The facility also had a job placement center, providing meaningful opportunities and jobs for those in need. Due to the success of this program, Steele moved his gym and amateur club to a larger and spacious 32,000 square foot complex in Las Vegas, named Richard Steele Boxing Club. He also helps out with Salvation Army charities and is on the Board of Directors of the United States Amateur Boxing Association – Nevada Chapter. His boxing team has traveled the world competing in amateur boxing exhibitions.

Steele has received numerous awards and recognition throughout the years, but he is particularly proud of being honored in 1999 by South Africa's Prime Minister Nelson Mandela for his refusal to referee boxing matches while the country was governed by the rules of apartheid.