Hall Of Famers
2004 Inductee - Richie Clyne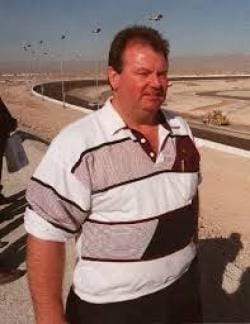 Richie Clyne had a love for automobiles from the time he took his first car ride on Long Island in the early 1950s. Clyne's love for cars sparked a vision of bringing America's greatest spectator sport to Las Vegas, and with that vision, Clyne created Las Vegas Motor Speedway in the northeast corner of the Las Vegas Valley.

The speedway, which now plays host to the NASCAR Sprint Cup Series and contains a dozen different racing venues, was completely the brainchild of Clyne - a transplanted New Yorker who found a home in the desert. Clyne sold the speedway in 1998 to Speedway Motorsports.

Clyne continues to run the Auto Collection at the Imperial Palace and has expanded his auto empire to include museums around the country. Richie splits much of his time between Las Vegas and New Hampshire. He dabbles in commercial real estate, but devotes much of his time collecting and restoring classic cars.
The Clyne File
Born: February 23, 1954
Claim to Fame: Clyne built Las Vegas Motor Speedway.