Hall Of Famers
2005 Inductee - Robert Gamez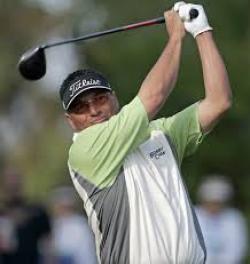 Robert Gamez is a native of Las Vegas who took to golf at a very young age. He started his career during his childhood playing rounds at the Las Vegas Municipal Golf Course.

In 1989, Gamez was well on his way to standout career as a professional golfer. He won the 1989 Fred Haskins and Jack Nicklaus Awards as the nation's most outstanding collegiate golfer while playing at the University of Arizona.

In 1990, he shocked the golf world by winning in his first professional Tour start when he posted a four-stroke win over Mark Calcavecchia in the Tucson Open. Two months later, he holed a 7-iron from 176 yards and an eagle to edge Greg Norman by one stroke in the Nestle Invitational.

Gamez continued a solid career until he was injured in an automobile accident while at the 1998 Kemper Open. Gamez had battled those injuries and has started returning to old form on the PGA Tour.

Gamez hosts an annual tournament in his hometown of Orlando, Fla. for the benefit of the Team Gamez Foundation.
The Gamez File
Born: July 21, 1968
Claim to Fame: In 1990, he was named the PGA Tour Rookie of the Year after posting two Tour wins that year. In 1989, he was named the collegiate player of the year.