Hall Of Famers
2009 Inductee - Robert Smith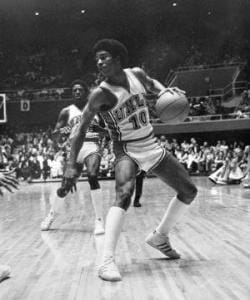 Born in Los Angeles, Calif., Robert Smith grew up with a basketball in his hands. He was a member of the 1969 Watts Magicians AAU team that won the California State championship. He later attended Crenshaw High School and led his team to the city championship in 1973. For his final two years in high school, his teams went undefeated. A solid scorer and prolific free throw shooter, the 5' 11" point guard actually held a freshman single-game scoring record at one time (36 points).

In 1973-74, Smith attended Arizona Western Junior College. He led his team to the Junior College Nationals and was named to the All-American Team as an honorable mention.

Smith then matriculated to UNLV and played three seasons with the Runnin' Rebels. He led the nation in free throw percentage at 92.5% during the 1976-77 season. Smith also led his team in assists during the 1975-76 and 1976-77 seasons. He was instrumental in leading UNLV to its first-ever Final Four appearance in 1977.

Following his career at UNLV, Smith was drafted in the 3rd Round by the Denver Nuggets. He played seven years in the NBA for six different teams. He also played four years in the CBA, making the All-Time Hall of Fame team.

He finished his playing career in France, making the All-Star team all seven seasons. During that time, he also led the league in free throw percentage, averaging an amazing 92% from the line in 1992.

Following his retirement in 1992, Smith began coaching high school basketball. He coached nine years at Bishop Gorman High School, earning two state titles and two runner-up finishes.

Smith currently coaches and mentors at the Andre Agassi Boys and Girls Club of Nevada. His youth teams have won seven titles.
The Smith File
Born: March 10, 1955
Claim to Fame: He was instrumental in leading the Runnin' Rebels to its first ever Final Four appearance in 1977.
Family: Gloria (Wife); 3 sons (Robert Jr., Jamaal, Elijah); 1 daughter (Anika)