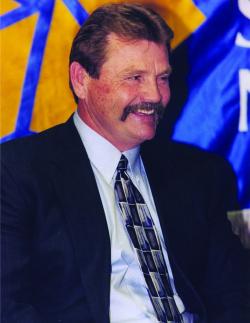 Rodger J. Fairless is the most successful baseball coach in Nevada history. He coached at Eldorado High School, then Valley, and ended his career at Green Valley. He is credited for developing major-league pitcher Greg Maddux, and his teams won 12 state championships, including six consecutive.

After winning six state championships at Valley during the 1980s, Fairless came to the Gators in 1991, when the Henderson school opened. It didn't take him long to establish his new program as one of the state's best, capturing the 1993 3A state crown.

Since then, Green Valley has been Nevada's elite baseball school. Fairless resigned at the Gator's head coach in 1999 leaving the high school ranks with a combined 493-80 record in 17 years at Eldorado, Valley, and Green Valley.

Fairless had produced several future professional baseball players, including current major leaguers Greg Maddux, Mike Morgan and Tyler Houston, Pirates' prospect Chad Hermanson and a trio of 1998 draftees - Mike Nannini, Joe Orloski and Dave Jensen.

Fairless' accomplishments include being selected as one of the "Top 50 Sports Figures of Nevada" for the Century by Sports Illustrated Magazine. He was also selected #2 among the "Top 25 Local Coaches" for the 20th Century. In 1999 he was the Las Vegas Review-Journal's Pick for Best Local Coach. He was the coach for nationally rated teams in 1984-86, 1988-89, 1993-96 and 1998.