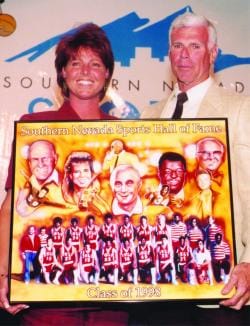 Hall of Famer. All-American. Local hero. All of these labels and more fit former UNLV track and field star Sheila Tarr-Smith, who died August 15, 1998, at the age of 34 from a rare neurological disorder.

"It was a tragic loss with her premature death," UNLV head coach Karen Dennis said. "She is always going to be remembered in our program."

Dennis' statement was solidified in the spring of 1999 when UNLV named the field at its new track and field facility after the fallen champion during the stadium's dedication ceremony.

Tarr-Smith was UNLV's first-ever national champion, capturing the 1984 NCAA heptathlon crown. She also finished second at the NCAA Championships the following year and took 11th at the 1984 Olympic Trials.

During her career, Tarr-Smith broke school records in the indoor shot put (47-3.72), the indoor pentathlon (3,876), the outdoor shot put (49-1.5), the javelin (153-8) and the heptathlon (5,856). Her marks in the shot put and heptathlon were also conference records, and she posted the best shot put mark for a heptathlete in NCAA history.

In 1997, Tarr-Smith was elected to the UNLV Athletic Hall of Fame in perhaps the most recognized class in the school history with Randall Cunningham and Matt Williams.

A Las Vegas native, Tarr-Smith was also a pillar of the community. She put the strength and endurance she learned as an athlete to use as a firefighter after graduating from UNLV, saving lives and serving the public.

Even after her death, Tarr-Smith did not stop receiving accolades. The Clark County School District has ensured that Las Vegas youngsters will know her name, as Sheila R Tarr Elementary School was unveiled in the fall of 2000.