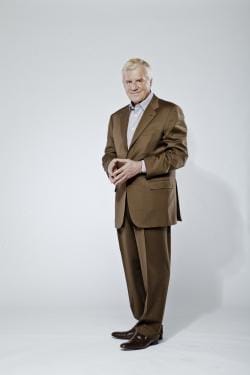 Sig Rogich is a life-long Nevadan who has dedicated his life to public service, athletics and promoting business development in the State.
He currently serves as President of The Rogich Communications Group, an international advisory firm that specializes in the areas of business development, crisis communications, strategic planning, issues management, media relations, campaigns and government affairs. He is a former United States Ambassador to his native country of Iceland, was a Senior Assistant to former President George H.W. Bush in the White House and served as a Director of the Tuesday Team, responsible for the 1984 election of President Ronald Reagan.
Prior to that, Rogich founded R&R Advertising and built it into the largest advertising agency in Nevada. Through his creative endeavors with R&R, he was involved in the reinvention of Las Vegas' image for more than twenty years.

Active in local and national politics, Rogich has worked on numerous local, gubernatorial and congressional campaigns as well as the Presidential campaigns for Presidents George H. W. Bush and George W. Bush and presidential hopefuls, Senator John McCain and Governor Jeb Bush.
Rogich has also been appointed to chair a number of high-profile committees, including the search committee for Clark County School District superintendent and the appointment by Nevada Governor Jim Gibbons to be the Nevada Chair of the California-Nevada Tahoe Basin Fire Commission. Additionally, in 2008, Rogich served as Co-Chair of the USAID Subcommittee on Public Outreach as part of the Advisory Committee on Voluntary Foreign Aid.
In the world of sports, Rogich has been influential through his involvement in the Nevada Athletic Commission and the Advisory Committee on Boxer Health and Safety. During his time as chairman of the Nevada Athletic Commission, the organization implemented numerous safety measures for fighters, including the reduction in rounds from 15 to 12 based on medical advice, the addition of one more rope to the boxing ring, taping guidelines for gloves, the elimination of the mandatory standing 8 count and mandated that a medical doctor be present at ringside. He also served as Nevada chairman for the United States Olympic Committee as well as vice president of the World Boxing Council where he spearheaded the WBC's participation in brain and health studies at UCLA and assisted in funding the collaboration.
Rogich has also been a benefactor of UNLV and UNR. He led the effort to bring Jerry Tarkanian to Las Vegas, negotiated his contract and secured all of his media endorsements. He secured funds for academic tutors for players and provided jobs within NCAA guidelines for more than 20 UNLV Runnin' Rebel student athletes throughout the years.
Over the years, Rogich has served on numerous Boards and Committees and has been actively involved with several charitable organizations. Rogich is currently Chairman of the Clark County Public Education Foundation, a position he has held since 1997; an Advisory Board member for the Reynolds School of Journalism and the Las Vegas Valley Water District; and a member of the Board of Directors for Opportunity Village, Keep Memory Alive (the foundation for the Lou Ruvo Center for Brain Health), Valley Health System and the Clean Energy Project.