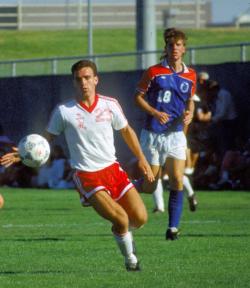 Born in Lewes, England in 1965, Simon Keith and his family moved to Victoria, British Columbia in 1967. He started playing soccer at a young age, eventually attending Mount Douglas Secondary School and excelling in his sport.
Keith received a scholarship to play soccer at the University of Victoria. In a life-changing event in 1984, Keith was diagnosed with myocarditis, a deterioration of the heart muscle. Two years later, at the age of 21, he was the recipient of a heart transplant. Ironically,

Keith received the heart of a 17-year-old boy from Wales, who had died while playing soccer. The surgery was performed at Papworth Hospital outside of London by renowned surgeons Dr. Mohsin Hakim and Sir Terence English.

He then moved to Las Vegas in 1987 determined to return to the field of play. Keith amazingly returned to competitive soccer playing for the University of Nevada, Las Vegas, under head coach Barry Barto. He also had a chance to play along side his older brother, Adam.

After playing two seasons with the Rebels, Keith garnered many honors including being named the Student-Athlete of Year for the Conference as well as voted as USA's Most Courageous Athlete. After his senior season, Keith was named the Most Valuable Player at the Senior Bowl and was drafted first overall into the Major Indoor Soccer League, just three years after his heart transplant.

Keith holds the distinction of being the first athlete in the world to play a professional sport after undergoing a heart transplant. Now one of the longest living organ transplant recipients in the world and most notable professional athletes of his time, Keith travels cross-country captivating audiences with his "Moments of Truth" speeches and daring people to live.

In 2011, he founded The Simon Keith Foundation, a 501 c 3 not-for-profit organization dedicated to increasing organ donor awareness and educating transplant recipients. He has recently published his biography – Heart for the Game - detailing this most unique journey, including his return to Wales to stand on the field with his donor's father, 25 years after the fateful day when the boy lost his life. Keith uses proceeds from both his book and speaking engagements to provide athletic training for other transplant recipients who choose to return to an active and healthy lifestyle.