Hall Of Famers
2012 Inductee - Stacey Augmon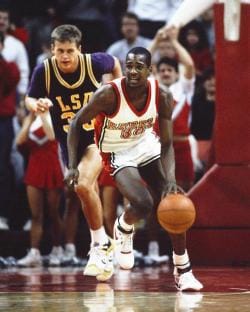 One of the greatest players to ever wear the Scarlet and Gray, Stacey Augmon spent four years at UNLV as a student-athlete (1987-91). He was a part of two NCAA Final Four teams (1990 and 1991), and was a major piece of the Runnin' Rebel team that won the 1990 NCAA Championship. The first three-time winner of the NABC Defensive Player of the Year award (1989-91), he was selected as a First Team All-American as a senior.

Augmon won the 1988 Big West Conference's Freshman of the Year award, then the next season earned the 1989 Big West Player of the Year honor. He was also named First Team All-Big West in 1989 and 1991.

Augmon had his No. 32 UNLV jersey retired in 1995. He is one of only four Runnin' Rebels to score more than 2,000 career points as he finished third on the all-time scoring list with 2,011 points. He also ranks third on the UNLV all-time rebounding chart with 1,005, and he is tied for the all-time steals mark with 275. He also ranks in the top-10 in program history in field goals made (fourth with 757), in career blocked shots (seventh with 128), in career assists (eighth with 433), and in free throws made (eighth with 400). He remains the school's leader in career games played (145) and starts (137).

After being selected ninth overall in the 1991 NBA Draft by the Atlanta Hawks, he earned First Team All-Rookie honors that season. He also played for Detroit, Portland, Charlotte/New Orleans and Orlando. In 1,001 career regular-season games in the league, he scored 7,990 points, grabbed 3,216 rebounds and recorded 974 steals.

Augmon was also a member of the 1988 United States Olympic Team, which captured a bronze medal at the Seoul Olympics.

Following his 15-year NBA career, Augmon joined the Denver Nuggets' staff as assistant coach/player development.

Augmon returned home to UNLV in 2011 to join the staff of former Rebels teammate Dave Rice as an assistant coach for the men's basketball program.

A native of Pasadena, Calif., Augmon earned his bachelor's degree from UNLV in social work in 1991. He was inducted into the UNLV Athletics Hall of Fame as part of the 2002 class.
The Augmon File
Born: August 01, 1968
Claim to Fame: He is one of only four Runnin' Rebels to score more than 2,000 career points as he finished third on the all-time scoring list with 2,011 points.
Family: Leslye (Wife); 7 children (Treesje, Obery, Freedom, Justice, Deja, Journey and Zion)