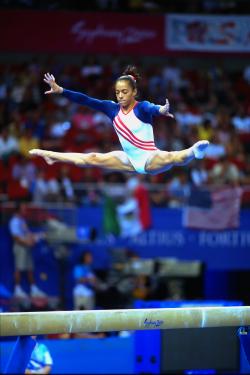 Tasha Schwikert is one of the most accomplished gymnasts of this generation. Born in Las Vegas, she began gymnastics at a young age and rose through the ranks to the elite level in the sport in the mid-90s. She was a surprise member of the 2000 Olympic squad, but performed well in both the team preliminaries and finals in Sydney.

Following the 2000 Olympics, Schwikert continued her stellar career for the United States, winning two team medals at the World Championships, a bronze in 2001 and gold in 2003. The 2003 team was the first U.S. World team to ever win a gold medal at a World Championships. Schwikert served as the the captain of that team. Because of that performance, Schwikert and her teammates were inducted into the USA Gymnastics Hall of Fame in 2008.

An injury to her achilles tendon impeded her progress and she was named as an alternate on the 2004 Olympic team in Athens.

Following her career on the world stage, Schwikert spent four years as a member of the UCLA Bruins gymnastics team. During her time with the Bruins she won two individual all-around NCAA national champion titles and two Pac-10 all-around titles. Following the 2007 season, she was nominated for the Honda Sports Award, which honors the top female collegiate athletes in the nation.

Starting in 2005, Schwikert was employed as a gymnastics commentator by the WCSN Network. She covered the World Gymnastics Championships for three consecutive years, working alongside Nadia Comaneci and Bart Conner. She also commented on UCLA gymnastics broadcasts and worked with NBC at the Beijing Olympics.

In addition to her career in broadcast journalism, Schwikert has also worked on the television series Make It or Break It as both a stunt double and actress.

In 2010, Schwikert's 2000 Olympic team was awarded a bronze medal in the team competition after the Chinese team was stripped of the medal by the IOC.

Currently, Schwikert is studying for the LSAT and plans to attend law school in the fall of 2012.