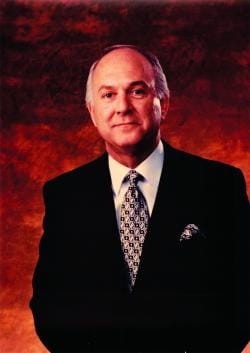 In 1960, at the age of 21, Frank Fertitta, Jr. left behind his wife, Vicki, and baby daughter, Delise, in Galveston, Texas, and drove to Las Vegas to try to find a better life for himself and his young family. His career in the gaming industry started at the Tropicana Hotel & Casino where he worked as a bellman while he learned to deal cards. Frank worked his way up from being a dealer to becoming the general manager of several casinos. In 1976, he and three partners opened a small 5,000 square foot casino attached to the Mini-Price Motor Inn on Sahara Avenue. Shortly after opening, Frank convinced his partners to focus on local customers—the people who live and work in Las Vegas. That casino, which became the Bingo Palace (ultimately renamed the Palace Station Hotel & Casino), was an overwhelming success and was the beginning of the locals market in Las Vegas, and of Station Casinos.

As Frank and Vicki raised their three children, Delise, Frank III and Lorenzo, they instilled in them their passion for sports and for helping others. An early example of their generosity and commitment to sports was the Fertitta family's contribution of $1 million to the University of Nevada Las Vegas in 1993, for the construction of the Frank and Vicki Fertitta Tennis Complex. A more recent example was the family's contributions that made it possible for Bishop Gorman High School to build a new state-of-the-art campus, including a new football stadium. Mr. Fertitta loved football and he loved watching his sons and grandsons play football for Bishop Gorman. Fertitta Stadium is named in recognition of his love and support of Bishop Gorman football.

Since Las Vegas did not have any professional sports teams, Mr. Fertitta would often take his sons to see championship boxing matches. As a result, Frank and Lorenzo grew up loving the sport of boxing. This love of boxing led to Lorenzo serving on the Nevada Athletic Commission from 1996 to 2000. More importantly, this love of boxing got them interested in mixed martial arts, which ultimately led to their purchase of the Ultimate Fighting Championship (UFC) in January 2001. Under their leadership, the UFC has become the most widely recognized mixed-martial-arts brand in the world. In fact, when Frank, Lorenzo and their friend Dana White took over the UFC in 2001, the company was nearly bankrupt, only a few states allowed live events to be promoted, and the small fan base could watch the fights only if they had satellite TV. Nine short years later, UFC events are one of the hottest tickets in all of sports, broadcasts go out to over 350 million homes in 132 countries, and shows are available in 17 different languages. UFC is now the #1 Pay-Per-View content provider in the world, generating buys that exceed the Pay-Per-View buys of boxing and wrestling combined. UFC content is available on the internet, mobile devices, video-on-demand and DVD. The company's videogame tops the charts, the UFC magazine is a best seller, and UFC GYMs are opening quickly. The UFC also has one of the top 10 longest running reality television series, The Ultimate Fighter, which is filmed right here in Las Vegas. Unquestionably, UFC has become a global phenomenon with athletes and fans from all over the world, and with live events taking place across the United States, in the United Kingdom, Canada, Germany, Australia and Abu Dhabi. It has also become an important contributor to the economy of the State of Nevada and has resulted in Nevada becoming the center of the Mixed Martial Arts universe.