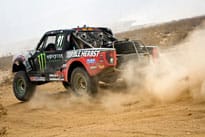 The passion for racing runs deep in the Herbst family, stretching across three generations of drivers and enveloping the brand image of the expansive family business. The family's first service station opened in 1937 and that commitment to excellence continues today, both in the community and on grueling desert race courses.

With more than 40 years of racing experience, the Herbst family exemplifies a true commitment to off-road racing. The first family of desert racing in Southern Nevada started with father Jerry Herbst and continued through his three Las Vegas-born and raised sons Ed, Tim and Troy, Terrible Herbst Motorsports has carved an unparalleled record in the deserts of Nevada, Southern California, and Arizona in the U.S. as well as in Baja California, Mexico.

Jerry Herbst started the family's tenure in desert racing with fellow Las Vegas businessman Mart Collins. In addition to winning several local races, they also won the 1970 SCORE Baja 500 in the unlimited Class 1.

Ed teamed with middle brother Tim for nearly 20 years to become the all-time winningest team in SCORE Trophy-Truck history. Splitting the driving time in their No. 19 Monster Energy Terrible Herbst Motorsports Ford F-150, Ed and Tim recorded 11 career wins in SCORE Trophy-Truck, and four of the 20 season championships (1999, 2000, 2002, 2003) in the marquee desert racing class for high-tech, 850 horsepower unlimited production trucks.

Troy, the youngest of the three Herbst brothers, dominated SCORE Class 1 for a decade, with six SCORE season point titles in his class out of seven years, and 16 Class 1 race wins in the iconic Smithbuilt-Ford open wheel desert race car called the 'land shark' because of its dominance in the desert.

All three are graduates of the University of Southern California. Ed graduated from Clark High School in Las Vegas while both Tim and Troy are graduates of Las Vegas' Bishop Gorman High School.

Today, Tim has teamed with desert-racing legend Larry Roeseler to pilot the No. 19 Monster Energy Terrible Herbst Motorsports Ford F-150 while Troy now races with Ryan Arciero in the No. 91 Monster Energy Terrible Herbst Motorsports Ford F-150. Racing a more limited schedule, Ed races with Las Vegas businessman Mark Post in SCORE Trophy Truck in the No. 3 Riviera Racing Ford F-150.

Continuing with that tradition of service and excellence, Terrible Herbst has grown beyond their racing roots with convenience stores, car washes and lube stations throughout the Las Vegas Valley.