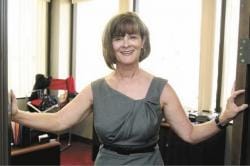 Born and raised in Las Vegas, Tina Kunzer-Murphy has been a fixture in the Southern Nevada sports community for four decades. A graduate of Valley High School, she first attended Southern Utah, where she lettered in swimming, before transferring to UNLV to compete in both tennis and volleyball at her hometown university. She earned her bachelor's degree in physical education from the school in 1975.

While pursuing a graduate degree she served as a tennis instructor and dance teacher at both UNLV and Clark County Community College (now CCSN).

Soon after earning her master's in education in 1977, she was hired as head coach of the UNLV women's tennis team as well as director of its cheerleading program. When the school dropped tennis for financial reasons in the early 1980s, she was thrust into a management role under then-athletics director Brad Rothermel, and eventually worked with the football and basketball programs, among others, during the department's wildly successful run through the PCAA/Big West Conference. Named UNLV's Senior Women's Administrator in 1981, Kunzer-Murphy oversaw the entire Lady Rebel athletic program, as well as various support groups such as the Rebel Football Foundation, the Rebel Golf Foundation and the Women's Sports Foundation, which she helped create.

In 1983, she was named an assistant athletics director and in 1987 was promoted to senior assistant AD. Kunzer-Murphy became senior associate AD at the University of Pacific in 1992 but then soon returned to town to work for the Las Vegas 51s and Thunder professional franchises as director of corporate sales and marketing.

After UNLV moved to the Western Athletic Conference in 1996, Kunzer-Murphy was hired to run its annual football championship game and men's and women's basketball championship events in Las Vegas.

Kunzer-Murphy returned to campus in 1999 when she was selected by ESPN Regional Television (ERT) to run the newly formed ESPN Regional at UNLV office, which oversaw the athletic department's corporate sales and broadcasting departments until 2005.

Under her leadership, the Las Vegas Bowl boasted multiple sell-outs, record-high television ratings and team payouts and the inclusion of the champion of the Mountain West Conference, elevating itself into the national college football landscape. In 2010, she was the first-ever woman to be named chair of the Football Bowl Association.

Currently, she serves as the Director of Athletics at UNLV.

Kunzer-Murphy has one son, Stephen, and has been married to former UNLV and local high school football coach Greg Murphy since 1990.