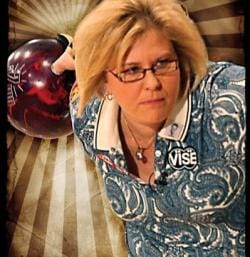 Simply put, Wendy Macpherson is an international bowling legend. A native of Walnut Creek, California, she moved to Las Vegas in 1991 and currently resides in the "Entertainment Capital of the World."

Her list of personal achievements and endorsements is long and distinguished. Macpherson is the youngest bowler to win the U.S. Open, a feat she accomplished as an amateur at age 18 in 1986 at the BPAA U.S. Open in Topeka, Kansas. Following her U.S. Open win, the victories and accolades continued to mount. Macpherson was named the 1986 Rookie of the Year by the Professional Women's Bowling Association (PWBA) and the Western Women Premier Bowlers. Macpherson went on to win five more major titles, including the 1998, 2000 and 2003 USBC Queens and the 1990 and 1999 Sam's Town Invitational. Overall, she has won 20 career professional titles, 12 career regional titles and three USBC team titles.

She has also won many coveted awards during her career. Macpherson was named Female Bowler of the Decade for the 1990's by Bowler's Journal. In addition, she was named the PWBA Player of the Year, Bowling Writer's Association of America Bowler of the Year and Bowling Digest Bowler of the Year in 1996, 1997, 1999 and 2000. In 2004, Macpherson joined the Japanese Professional Bowlers Association and has won 3 professional titles in Japan.

With 21 years as a professional, Macpherson has a lifetime tour average of 211 and has recorded a staggering 28 perfect games of 300.

Macpherson, who also enjoys golf and watching A&E, the Discovery Channel and Court TV in her spare time, has surpassed more than $1.2 million in career earnings. During her illustrious career, she has endorsed a variety of products including Hammer Bowling Balls, AMF Bowling & Products, Columbia 300 Bowling Products, Mongoose Wrist Devices, Contour Power Grips and Vise Inserts.

In 2006, Macpherson won a prestigious award known as an Eagle. She earned the award by winning the 2006 USBC Open Championship Singles tournament, in which she bowled an 812 series. She is the first and only woman in the history of the event to claim an Open Championship, a tournament that first started in 1901.

Macpherson also gives back to the community. She has been a guest speaker for the National Collegiate Bowling Tournament, the Touchdown Club of Columbus and the Women's International Bowling Congress National Delegates Convention. She voluntarily coached the UNLV Men's Bowling team from 2005-06. In addition, she has provided private bowling instruction and conducted clinics and seminars for AMF Bowling, Columbia 300, PBI Bowling and Fuji Sports Co. in Japan.